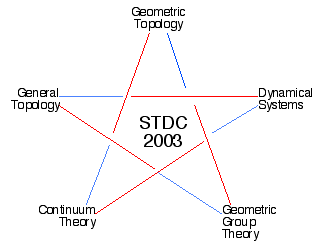 SPRING TOPOLOGY and DYNAMICAL
SYSTEMS CONFERENCE 2003
TEXAS TECH UNIVERSITY
LUBBOCK, TEXAS
MARCH 20-22, 2003
---
TRAVEL TO AND FROM LUBBOCK
BY AIR: Lubbock (airport code LBB) is served by four airlines.

American Airlines provides eight flights per day betwen Lubbock and the Dallas - Ft. Worth airport, (airport code DFW) with service provided by American Eagle. At present four of these flights utilize Embraer Regional Jet ERJ 145's, with the other four flights utilizing smaller SAAB 340B's. Most American Eagle flights from Dallas - Ft. worth depart from the A2 satellite terminal with frequent short bus service between it and the A terminal.

Continental Airlines provides four flights per day between Lubbock and the Houston Intercontinental Airport (airport code IAH) with service on each flight provided by Continental Express utilizing Embraer Regional Jet ERJ 145's. Continental Express flights out of Houston operate from the B terminal which has frequent efficient connections to the other terminals by a monorail "people mover." Continental Airline flights are code-shared with Northwest Airlines.

Delta Airlines provides three flights per day between Lubbock and Dallas - Ft. Worth airport (airport code DFW) with service on each flight provided by Atlantic Southeast Airlines utilizing Canadair Regional Jet 200's. Delta flights at Dallas - Ft. Worth operate from the E terminal.

The SAAB 340B's utilized by American Airlines have a capacity of approximately 30 passengers each. The regional jets utilized by American, Continental and Delta Airlines have a capacity of approximately 50 passengers each.

Southwest Airlines is the only airline flying full-size jets (Boeing 737's) into Lubbock. Southwest Airlines currently has 15 flights per day non-stop between Lubbock and Albuquerque, Austin, Dallas Love Field (not DFW), El Paso and Las Vegas, either continuing or connecting to many other destinations. Southwest provides efficient inexpensive service but does not provide interconnection or baggage transfer with other airlines. Southwest Airlines makes heavy use of online booking, but is not listed in such sources as Orbitz, Travelocity, Expedia or Trip.Com. They frequently offer Internet Special rates and make strong use of ticketless travel. (With current security restrictions, one needs a printout of the receipt or itinerary to go to the boarding gates even if one has an electronic ticket.)

Lubbock is not located sufficiently close to any other metropolitan area to make it convenient to use an alternate airport when travelling to or from Lubbock. Much of the South Plains and adjoining regions of New Mexico utilize the Lubbock airport.

At the Lubbock airport, American and Continental Airlines use Baggage Claim area 1, located at the east end of the terminal, while Delta and Southwest Airlines use Baggage Claim area 2, located at the west end of the terminal. The terminal is not so large as to make a walk between the two baggage claim areas inconvenient.

The hotels where blocks of rooms have been arranged provide courtesy airport shuttle service. In each baggage claim area is a panel with hotel information and phones for calling the shuttles.

Lubbock International Airport is serviced by the following rental car companies. Advantage, Alamo, Avis, Budget, Hertz, National and Thrifty. Budget is off-airport (only a short distance, at the first intersection leaving the airport), while the others are located near the terminal with offices in the terminal near Baggage Claim 2.

BY CAR: Most persons driving into Lubbock will come by way of one of the routes below. Should you be coming by a different route, check either MapQuest or the conference organizers for local directions.

From the Lubbock Airport: Leaving the Lubbock airport one will be heading south on M. L. King Boulevard. At the first intersection (a four-way stop with Budget Rent-A-Car and the Airport Shelter Parking facility on the corners) turn right and proceed to Interstate 27. Turn left and enter Interstate 27 South. Take Exit 3, US 62/Texas 114, and turn right onto 19th Street. Proceed west on 19th Street past the southern part of downtown, After University Avenue, the Texas Tech University campus will be on the right side of the street. (If one is going directly to the conference site rather than to the hotels, turn right onto University Avenue and proceed north to Broadway Street -which would otherwise be 12th Street in the numbering scheme- turn left on Broadway into the main entrance for the campus, proceed around the far side of the circle to the Chemistry Building where talks will be held. ) To reach the hotels, continue on 19th street past the campus and later past the medical center on the left. One wants to be in the left lane at the intersection with Brownfield Highway. Lubbock Inn is on the left just before the intersection, but one has to proceed to the intersection and make a U-turn. La Quinta Inn is on Brownfield Highway on the left just past the intersection. At the intersection follow the signs for U.S. 62. For Lubbock this is one of the more complicated intersections, where two divided six-lane highways intersect at a non-right angle. See the maps for more information.


From Interstate 27 South (from the direction of Amarillo): Follow the directions from the airport from the point where one gets on Interstate 27 South.

From US 62/82/ Texas 114 West (from the direction of Wichita Falls or Denton): US 82 approaches Lubbock from Wichita Falls and Sherman. For the last 150 miles it coincides with Texas 114 which approaches Lubbock from just west of Denton. For the last 30 miles these coincide with US 62, which approaches Lubbock from Childress. On the northeast edge of Lubbock, just after passing under Loop 289, US 62/Texas 114 diverges to the right from US 82. Continue on US 62/ Texas 114, which becomes 19th Street, go under Interstate 27 and proceed from this point as in the directions from the airport.

From US 84 North (from the direction of Abilene or Sweetwater): US 84 North enters Lubbock on the southeast corner of town. As one enters town, proceed under Loop 289 to Interstate 27. Turn right to enter Interstate 27 North and proceed to exit 3, US 62/Texas 114 (from this direction also labelled 19th Street). Take exit 3 and turn left onto 19th Street heading west. From this point follow the directions provided from the airport. (Coming from the airport one is headed south and so turns right onto 19th Street heading west.)

Contact: springtop@math.ttu.edu