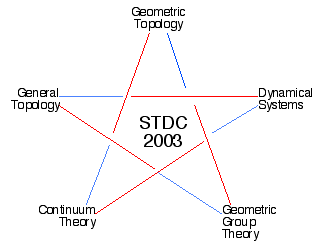 SPRING TOPOLOGY and DYNAMICAL
SYSTEMS CONFERENCE 2003
TEXAS TECH UNIVERSITY
LUBBOCK, TEXAS
MARCH 20-22, 2003
---
LOCAL INFORMATION
Lubbock is a community of approximately 200,000 located on the South Plains of west Texas. It is the only community of over 25,000 in a 100 mile+ radius and as such is a center for a variety of activities. The town was founded in 1890 and incorporated in 1909. For the history of Lubbock see the Handbook of Texas Online.


Links to many sites in and around Lubbock are provided by LubbockHospitality.com and by LubbockLegends.com.


Music. Buddy Holly is the musician most associated with Lubbock. However, the music heritage of Lubbock is long and varied. Other prominent persons from the area include Mac Davis, Joe Ely, Waylon Jennings, Natalie Maines, Roy Orbison, Tanya Tucker and Bob Wills, The Lubbock Symphony provides a variation to the more common music of west Texas. Several Tejano groups add their own touch to the west Texas music scene and are prominent at Cinco de Mayo and Fiesta del Llano celebrations.


Though in an area of limited rainfall, Lubbock has been a natural site of water for thousands of years. The Lubbock Lake Landmark, northwest of town, is a designated National Historic and State Archaeological Landmark, preserving records of ancient peoples over a period of 11,500 years. It is the site of current active research and is maintained and operated by the Museum of Texas Tech University. Near the museum, located on the north edge of campus, is the National Ranching Heritage Center, established to preserve the history of ranching, pioneer life and the development of the livestock industry in North America. The Silent Wings Museum, just west of the airport, preserves the history of the American military glider program. The American Wind Power Center, east of town, preserves the history and many artifacts of an energy source central in the development of much of the plains. Prairie Dog Town, located in MacKenzie Park northeast of town, preserves some of what was once a very extensive network of local inhabitants of the region. Unfortunately, not all of Lubbock's native inhabitants are faring as well. The Science Spectrum/Omnimax Theater, in the southern part of town, provides a number of hands-on exhibits and films.


Texas Tech University is home to the VietNam Center (in the basement of the Mathematics building), preserving material concerning the conflict there and encouraging research into the conflict and the people and cultures of Southeast Asia. The Southwest Collection, located just north of the Library, houses an extensive archive of material from the U.S. Southwest.


A number of parks or sites of natural interest can be reached in a day trip from Lubbock. Palo Duro Canyon State Park, just over 100 miles north of Lubbock, is part of a canyon system over 120 miles long, 20 miles wide and 800 feet deep on a branch of the Red River. Caprock Canyons State Park and Trailway, closer to Lubbock, also on the edge of the Caprock but not as developed in terms of facilities as Palo Duro, is home to a herd of Pronghorn Antelope, a herd of Aoudad Sheep, the official Texas State Bison Herd and rarely seen Golden Eagles, among many other forms of wildlife. Monahans Sandhills State Park, just over 160 miles southwest of Lubbock, is an active part of an extensive dune field extending over 200 miles from south of Monahans into the White Sands National Monument in New Mexico. East of Monahans is the Odessa Meteor Crater, site of an iron meteorite impact approximately 25,000 years ago. Just under 200 miles southwest of Lubbock is Carlsbad Caverns National Park, with one of the world's largst underground chambers, numerous formations and the nation's deepest and third longest limestone cave. Only about 40 miles southwest of Carlsbad Caverns, back in Texas, is Guadalupe Mountains National Park, with impressive McKittrick Canyon. In the city of Carlsbad, New Mexico is the Living Desert Zoo and Garden State Park. In northeastern New Mexico is Capulin Volcano National Monument. North of Lubbock, somewhat west of Palo Duro is Buffalo Lake National Wildlife Refuge and north of Amarillo is Alibates Flint Quarries National Monument, inside Lake Meredith National Recreation Area.








Contact: springtop@math.ttu.edu