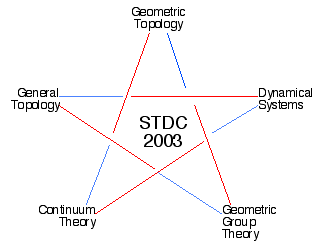 SPRING TOPOLOGY and DYNAMICAL
SYSTEMS CONFERENCE 2003
TEXAS TECH UNIVERSITY
LUBBOCK, TEXAS
MARCH 20-22, 2003
---
HOTELS FOR THE CONFERENCE
We have reserved blocks of rooms at two hotels in Lubbock for conference participants. The two hotels are only a couple of blocks from each other and both located near the intersection of 19th Street and Brownfield Highway, southwest of campus. See the maps of this intersection and of the region between these hotels and campus.

We anticipate providing shuttle service between the hotels and the conference site. We shall also provide campus maps and parking information for those with their own vehicles. Both of the hotels provide complimentary airport shuttle service. While distance does not preclude walking from the hotels to the conference site on campus, such is not advised. The path goes by Covenant Medical Center where major construction is occurring and no sidewalks are available. One also must cross 19th Street, which is six-lane U. S. Highway 62/ Texas Highway 114. For those who want an area for walking near the hotels, a few blocks south of both hotels is Maxey Park.

The rate at La Quinta Inn includes continental breakfast. Lubbock Inn does not provide complimentary breakfast but does have Windows Restaurant on site. There are a number of restaurants close to both hotels.

LUBBOCK INN: 3901 19th Street, Lubbock, Texas 79410, telephone 806-792-5181, toll free 1-800-545-8226, FAX 806-792-1319. Indicate "Spring Topology Conference" when making reservations. There are 35 doubles reserved, 28 king bedded rooms and 2 king suites reserved. Rates are $57.00 per night for single or double occupancy, $64.00 for triple occupancy and $71.00 for quadruple occupancy plus 13% local motel tax. Either of the king suites reserved is $90 per night.

Though privately owned and managed and not part of a national chain, Lubbock Inn is a quality facility and is where guests of the department are normally housed during their stay.

All rooms in this block should be booked by March 7, 2003 to insure availability and the above rates.

LA QUINTA INN: 4114 Brownfield Highway, Lubbock, Texas 79407, telephone 806-792-0065, toll free 1-800-531-5900, FAX 806-792-0178. Indicate "Texas Tech University" reservation bloc 92245540 when making reservations. Hotel personnel suggest using the toll free La Quinta Central Reservation Center when booking rooms. There are 46 non-smoking rooms reserved with two fullsize beds each and 19 non-smoking rooms with king size beds. For each room the rate is $66.99 per night for from one to four persons, plus 13% local motel tax.

Rooms in this block should be booked prior to March 6, 2003 to insure availability and the above rates.

Note that there are two La Quinta Inns in Lubbock. The one above, where we have rooms blocked is identified as the La Quinta Inn - Lubbock West/Medical Center. There is also a La Quinta Civic Center at 601 Avenue Q which is located downtown. This is a comparable distance from the conference site and has comparable facilities and rates, but persons staying there or at other hotels will be responsible for their own transportation.


It may be possible to obtain rates comparable to those above by booking through various online sites such as Expedia, Orbitz, Trip.com or Travelocity though one will not be able to book rooms in the reserved blocks online. There are a number of other hotels or bed and breakfasts at a variety of prices, locations and qualities in Lubbock.

The Maps link has maps of the areas around the hotels and their location relative to the conference site. The Restaurants link has information on restaurants near the hotels as well as links to information on other Lubbock restaurants and on Lubbock wineries. The Weather link has information on Lubbock weather at this time of year and its variability.

Both of the above hotels provide complimentary shuttle service between the airport and hotel. Information for persons driving from the airport or from elsewhere is provided at the Transportation link.

The Local Information link provides information and links for activites and sites of interest in the Lubbock area and places which might be reached in a day trip.


Contact: springtop@math.ttu.edu