---
GREAT DOG STORIES
by Albert Payson Terhune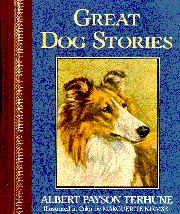 &nbsp
First published by: Random House, New York, 1993

Fox!

The Coming Of Lad

``Youth Will Be Served!''

Lochinvar Bobby

``One Minute Longer''

Runaway

The Feud

The Destroyer From Nowhere

Foster Brothers

Collie!

The first five stories in this collection are reprinted from the book The Heart Of A Dog,with the remaining five reprinted from the book My Friend The Dog.

Contact: Wayne Lewis (sunnybank@collies.com)



Return to Lucky's Home Page
Return to Crockett's Home Page