---
HOW TO BOX TO WIN
by Terry McGovern (Albert Payson Terhune)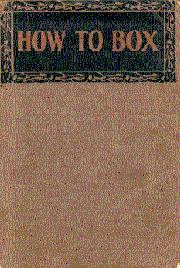 First published by Rohde & Haskins, New York and London, 1900.

Reprinted by Barse & Hopkins (New York, 1900), Shrewsbury (Chicago, 1900 and subsequent), and Stein (Chicago, 1931).

Collected from a series of articles on boxing written for the New York Evening World under the name Terry McGovern. Terhune also wrote a boxing series under the name Jim Jeffries and a series on muscle building under the name Jim Corbett.
Softbound book of 185 pages.

How To Box To Win
How To Build Muscle
How To Breathe, Stand, Walk, or Run
How To Punch the Bag

A Book of Health and Strength

by
Terry Mcgovern
James I. Corbett
J. Gardner Smith, M. D.
Gus E. and Arthur R. Keeley


How To Box To Win

First Lesson. The Right Way to Live - How to Become Strong
Second Lesson. The Home Gymnasium - First Stepr in Boxing
Third Lesson. How to Lead and Get Away - Body Blows - Counter Swings
Fourth Lesson. Ducking - Side-Stepping - Gymnasium Work
Fifth Lesson. How to Take Care of Yourself in a Street Fight
Sixth Lesson. Dangers to be Avoided - Supplementary Points - Good Advice
McGovern Answers Letters. Some Special Information at the Request of Young Readers
McGovern Explains His Knockout blow
Mcgovern's Own Story of His Start in Life


How To Build Muscle

I. Getting Ready - Preparing the Inner Man
II. First Months of Training
III. Heavier Work Begun
IV. Fresh Air a Muscle Builder
V. Renew Your Strength!
VI. Now Women May Grow Strong and Beautiful


How To Breathe, Stand, Walk, or Run

I. Knowing How to Breathe Means Knowing How to Live in Perfect Health - Special Training Insures Strong Lungs and Develops Grace of Action
II. Stand Like a Soldier for Strength and Grace - Lack of Energy and Ambition Shows in the Manner a Man Holds Himself
III. Heel - and - Toe Action First Rule in Walking - Natural Swing of Body and feet gives Health and Grace of Movement - Waddling Is Impossible When Head Is Held Erect, Chest Out, and Arms follow Legs - Full Advantage to Fat and Lean Who Practice Nose Breathing and Follow Rules
IV. All May Run Who Learn the Rules of Leg Speed - Catching Cars Will Be a Task of Joy and an Act of Graceful Motion - Old as Well as Young Should Sprint and None Feel the Need to Puff and Blow - In Running Spring from the Toe and Let Ankle, Knee and Body Bend Freely


How To Punch The Bag

I. Useful Exercies Will Develop Your Muscles and Improve Your Health
II. First Blow to Learn in Punching the Bag - Champion Keeley Brothers, in Second Lesson, Tell Beginner the Correct Position to Assume and How to Properly Strike the First Blow
III. Tattoo and Hook Blows for the Bag-Puncher - How to Become Proficient in the Art of Landing Blows Quickly and Correctly, Explained by the Champion Keeley Brothers
IV. How to Become Fancy in Punching the Bag - Right and Left Elbow Blows and a New and Pretty Tattoo
V. Hitting Bag with Head Strengthens the Neck
VI. Roll Blows and Training Pointers for Bag-Punchers

Contact: Wayne Lewis (sunnybank@collies.com)



Return to Lucky's Home Page
Return to Crockett's Home Page