Sundance::DiscreteFunctionStub Class Reference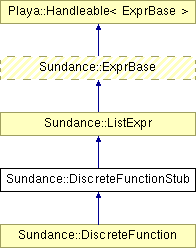 Public Member Functions

DiscreteFunctionStub (const std::string &name, int tensorOrder=0, int dim=1, const RCP< DiscreteFuncDataStub > &data=RCP< DiscreteFuncDataStub >(), int listIndex=0)
DiscreteFunctionStub (const Array< string > &name, const Array< std::pair< int, int > > &tensorStructure, const RCP< DiscreteFuncDataStub > &data=RCP< DiscreteFuncDataStub >())
DiscreteFunctionStub (const std::string &name, const SpectralBasis &sbasis, int tensorOrder=0, int dim=1, const RCP< DiscreteFuncDataStub > &data=RCP< DiscreteFuncDataStub >(), int listIndex=0)
DiscreteFunctionStub (const Array< string > &name, const SpectralBasis &sbasis, const Array< std::pair< int, int > > &tensorStructure, const RCP< DiscreteFuncDataStub > &data=RCP< DiscreteFuncDataStub >())
virtual
~DiscreteFunctionStub ()
virtual RCP< ExprBase >
getRcp ()



Protected Member Functions

void
initTensor (const std::string &name, int tensorOrder, int dim, const RCP< DiscreteFuncDataStub > &data, int listIndex)
void
initTensorSpectral (const std::string &name, const SpectralBasis &sbasis, int tensorOrder, int dim, const RCP< DiscreteFuncDataStub > &data, int listIndex)
const RCP< DiscreteFuncDataStub > &
dataStub () const



Private Attributes

RCP< DiscreteFuncDataStub >
data_
---
Detailed Description
DiscreteFunctionStub
is the base class for discrete functions. Each framework will need to implement its own subclass of
DiscreteFunctionStub
.
The interface is left very minimal so as to not place any constraints on how a framework might specify vectors and bases. When a framework needs any information about the discrete function, it will have to get it by downcasting to the appropriate framework-specific subclass.
For purposes of interaction with the Sundance core, no additional methods are required. However, most frameworks will require extensions to DiscreteFunctionStub that can supply the framework with information on the basis and vector used by the discrete func. See the demo and standard frameworks for information on how to do this.
Definition at line 62 of file SundanceDiscreteFunctionStub.hpp.
---
Constructor & Destructor Documentation
DiscreteFunctionStub::DiscreteFunctionStub
(
const Array< string > &
name,
const Array< std::pair< int, int > > &
tensorStructure,
const RCP< DiscreteFuncDataStub > &
data = RCP<DiscreteFuncDataStub>()
)
DiscreteFunctionStub::DiscreteFunctionStub
(
const std::string &
name,
const SpectralBasis &
sbasis,
int
tensorOrder = 0,
int
dim = 1,
const RCP< DiscreteFuncDataStub > &
data = RCP<DiscreteFuncDataStub>(),
int
listIndex = 0
)
DiscreteFunctionStub::DiscreteFunctionStub
(
const Array< string > &
name,
const SpectralBasis &
sbasis,
const Array< std::pair< int, int > > &
tensorStructure,
const RCP< DiscreteFuncDataStub > &
data = RCP<DiscreteFuncDataStub>()
)
| | | | | |
| --- | --- | --- | --- | --- |
| virtual Sundance::DiscreteFunctionStub::~DiscreteFunctionStub | ( | | ) | [inline, virtual] |
---
Member Function Documentation
| | | | | |
| --- | --- | --- | --- | --- |
| const RCP<DiscreteFuncDataStub>& Sundance::DiscreteFunctionStub::dataStub | ( | | ) | const [inline, protected] |
| | | | | |
| --- | --- | --- | --- | --- |
| virtual RCP<ExprBase> Sundance::DiscreteFunctionStub::getRcp | ( | | ) | [inline, virtual] |
void DiscreteFunctionStub::initTensor
(
const std::string &
name,
int
tensorOrder,
int
dim,
const RCP< DiscreteFuncDataStub > &
data,
int
listIndex
)
[protected]
void DiscreteFunctionStub::initTensorSpectral
(
const std::string &
name,
const SpectralBasis &
sbasis,
int
tensorOrder,
int
dim,
const RCP< DiscreteFuncDataStub > &
data,
int
listIndex
)
[protected]
---
Member Data Documentation