Lucky, A Collie
---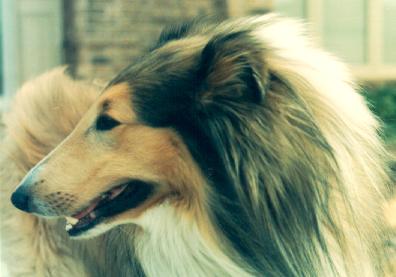 ---
Prince Lucky Lad III, &quot Lucky &quot for short, is a Rough Collie. He was born January 23, 1991. He is descended from a long line of Glen Hill collies.
Several other photos of Lucky can be seen here.
Lucky unfortunately passed away suddenly from neurological problems on February 24, 2000. He is dearly missed and well remembered.
Lucky made important contributions to his dad's research in topology and was the first (perhaps only) dog to have a link to Topology Atlas.
---
The Collie Connection (Collie list home page)
---
Selected Dog Poems:

---
Coming:
Links to other collie information
---
Information on the collie stories by Albert Payson Terhune
---
"And on the eighth day God created collies."
The Eleventh Commandment: "Thou shalt go and work with thy collie at least twice a week."
---
Return to Wayne Lewis home page

Last updated Augsut 29,2013

Wayne Lewis (wayne dot lewis at ttu dot edu)