Effects of birth pulses
Competition between native and invasive species represents a challenging management problem. We study the competition for resources between a native, desirable species and an efficient, invasive species. Competition interactions occur on a short timescale, while reproduction occurs in distinct pulses over a longer timescale.
A notable feature of this work is the use of a broadly applicable hybrid model, since many ecological processes occur over disparate timescales. Below are some important components of the research.
Embedding continuous dynamics in discrete model
Stability analysis and bifurcation for discrete map
Numerical investigation of instability
Future work on this project includes extending the model to include complex intraguild interactions (relevant to my interest in insect communities) and determining implications for long-term population outcomes.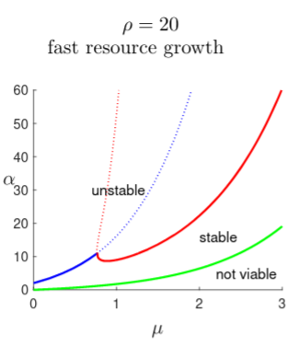 Collaborators
Publication List
Glenn Ledder, Richard Rebarber, Terrance Pendleton, Jonathan Weisbrod. A discrete/continuous time resource competition model and its implications. Submitted to Journal of Biological Dynamics, 2020.
Contribution Statement: I contributed to biological discussion of the model and goals, verified mathematical results and writeups (primarily led by GL), and contributed a corollary result.