---
DogLit-H

DogLit-H is a listserve devoted to dogs in literature. It was started in May 1998 from an informal network of Terhune collectors. However, it covers all aspects of dogs in literature as well as related areas such as dogs in film and the arts.


This list is hosted by Hoflin Publishing, Incorporated. It is a moderated list with Wayne Lewis serving as list moderator.

This list is intended to provide a pleasant location for people with common interests in dogs and books to share these interests. We have a policy of zero tolerance for attacks or flames.

List Guidelines:


This is a place for friendly, civil discussion. Please keep this in mind at all times.
Posts to the list should be sent to DogLit-H@h19.hoflin.com, or by "reply" to any message received through the list.
Personal attacks, flames, or libelous charges will not be tolerated. All posts are subject to approval by the list moderator before distribution to the list. Repeated attempts to post attacks, flames, or libel are subject to either temporary or permanent termination of a subscription, at the discretion of the list moderator. Membership in this list is a privilege, not a right.
When replying to a post, please be sure the subject line is appropriate, and only quote necessary parts from a previous post. Use private e-mail if a post only applies to a few persons.
The copyright to all posts remains with the poster. Any message should be forwarded outside this list only with the permission of the poster.
Because of the wide variety of e-mail software, please do not send messages with special encoding or attachments. Please keep the body in plain text. It is okay to include URL's (web addresses). Please do not include images. One may include a link to an image or other file, or provide a private e-mail address for interested persons.
This list is hosted by Hoflin Publiching, Inc. They may from time to time post information on their publications to the list.
For sale items may be posted to the list as long as the number of such does not become excessive. Posts should include an e-mail addres for contact off-list, should not include price, and all transactions should take place off-list.
Wants may be posted to the list as long as such remain brief, do not become excessive, and include an e-mail address for reply. All responses should be off-list.
Notices of new sources of items of interest to persons on the list (electronic book searches, auctions) may be posted as long as such are kept brief and do not become excessive.
List membership is confidential. Information about list subscribers is available only so far as individuals wish to provide such through their posts. While lurkers are welcome, we ask that anyone posting for the first time provide a brief introduction. Subscription lists will not be sold or made publicly available, either through the list moderator or through Hoflin Publishing, Inc.
E-mail lacks the cues present in vocal language and can be easily misinterpreted. Something obviously funny or a light comment may not seem so to someone else. Use of e-mail "emoticons" can help provide additional cues.A few examples: :-) (smiley face), :-( (frown), (((!))) (excited tail wags), ROTFL (rolling on the floor laughing).
Subscribe, unsubscribe messages should not be sent to the list. Either send such through the Hoflin home page or to the list moderator.
Enjoy yourself and help others do the same. Be the kind of person your dog can be proud of.
Wayne Lewis (sunnybank@collies.com)
Return to Lucky's Home Page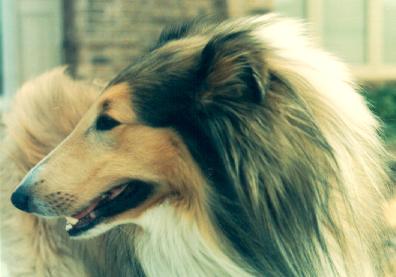 Return to Crockett's Home Page