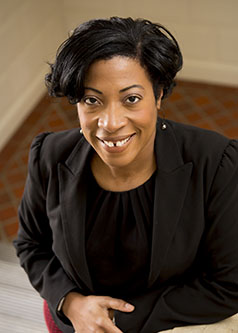 Raegan Higgins, Ph.D.
Contact Information
Associate Professor
Department of Mathematics & Statistics
Texas Tech University
Box 41042,
Lubbock, TX 79409-1042

Office: Math 203
Phone: (806) 834-1747
Fax: (806) 742-1112
Email: raegan.higgins@ttu.edu
Educational History
University of Nebraska - Lincoln - Lincoln, NE (August 2002 - May 2008)
Degrees: Doctorate of Philosophy (2008); Masters of Science (2004)
Major: Mathematics
Emphasis: Time Scales
Advisors: Lynn Erbe, Ph.D. and Allan Peterson, Ph.D.
Xavier University of Louisiana - New Orleans, LA (August 1998 - May 2002)
Degree: Bachelor of Science
Major: Mathematics
Minor: Computer Science
Advisor: Vlajko Kocic, Ph.D.
Teaching
All course material can be found on Blackboard.
The department offers free tutoring in the Tutoring and Study Center.
Courses Taught
MATH 1452: Calculus II with Applications Student Comments
MATH 1451: Calculus I with Applications Student Comments
MATH 3351: Higher Mathematics for Engineers and Scientists II Student Comments
MATH 5319: Intermediate Analysis II Student Comments
MATH 5318: Intermediate Analysis I Student Comments
MATH 3350: Higher Mathematics for Engineers and Scientists I Student Comments
MATH 1352: Calculus II Student Comments
MATH 1351: Calculus I Student Comments
Research
My research is in the area of time scales. The calculus of time scales was developed to unify and extend results obtained for differential equations and difference equations. Currently, my focus is on oscillation criteria for certain linear and nonlinear second order dynamic equations. I am also interested in applications of time scales to mathematical biology and issues that affect pre-service teachers ability to teach mathematics.
Current Collaborators
Dr. Vlajko Kocic and Dr. Yevgeniy Kostrov at Xavier University of Louisiana
Dr. Elvan Akin at Missouri University of Science and Technology
Journal Articles
Conference Proceedings
T. Stevens, G. Harris, R. Higgins, Z. Aguirre-Munoz, and X. Liu, Rigorous Math Courses for Middle-school Math Teachers, Proceedings of the 41st Annual Meeting of the Research Council on Mathematics Learning, (2014), 17-24.
R. J. Higgins and A. Peterson, Cauchy Functions and Taylor's Formula for Time Scales, Proceedings of the the Sixth International Conference on Difference Equations, (2004), 299-308.
Manuscripts under Review