Cones
---
November 13, 2001

Mesquite Trees, Anon.
Thorn Avenue
Lubbock, TX 79414

Dear Calculus Student,

You don't know me - my name is Timothy S. Tooth, but you do know my neighbor, Betty. She related to me how helpful and resourceful you were on a recent project she placed across your desk.

We recently opened our very own ice cream parlor. We serve sundaes, sodas, smoothies and of course ice cream cones. We decided a long time ago when we were in our initial planning stages, that we would use a traditional style cone (i.e. a conical shaped cone). We have a nifty supplier who gives us a great deal on packages of a gross or more -- so we have hundreds in stock. The cones are 4 inch cones with base angles of 35 degrees. (I hope this sketch helps my explanation.)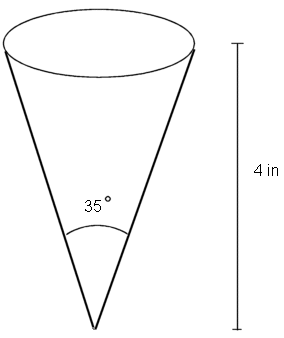 Our problem is: How big of an ice cream ball should we scoop up to put into the cones, so that we will give our customers the largest possible amount of ice cream inside the cone. Of course, when we pack the ice cream ball into the cone it deforms a little, but that can be ignored. Please think of our ice cream balls as spheres.

We therefore have contacted you to find out how big we should be scooping the ice cream balls because that affects how much ice cream we should be ordering monthly. Because we have already had our grand opening, we unfortunately require a fairly speedy response from you, and therefore request your report to be submitted by the 4th of Dec. If you have questions about this project, be sure to contact Dr. Pearce, whom we have already hired as a consultant (to among other things test (taste) our ice cream.) For your reference, we have included a copy of our requirements for technical documents. We look forward to seeing your finished report.

Yours sincerely,
Timothy S. Tooth
Owner, Sweet Tooth Ice Cream Factory

Encl: Technical report requirements
---
The technical requirements...
Sweet Tooth Ice Cream Factory

Technical Report Requirements

All reports submitted toSweet Tooth Ice Cream Factory should be written so that the forewomen and foremen of the construction unit implementing the report can understand and apply the information contained therein. Owing to Sweet Tooth's preeminent position in the ice cream scooping field all of our forepeople have degrees in engineering, and thus have had college level mathematics, including calculus---unfortunately, however, their long experience in the field precludes a ready knowledge of the same. Therefore, the reports should assume a strong precalculus and basic calculus (about half a semester of calculus I) background, but should not expect a knowledge of much more than that.

Reports should further:
Be written in the first person plural (e.g., "We found the requisite data from the figure...").
Include mathematical formulas and appropriate graphs in the body of the report as appropriate to describe the methods and results obtained. (While the report must be typewritten, it is fine to neatly hand-write formulas if that significantly simplifies its generation.)
Clearly explain how the mathematical formulas that are included bear on the problem being solved.
Consist of:

An Introduction, describing the problem to be solved, and an indication of the mathematical method used to solve it.
A Body, describing the mathematical problem that was solved to answer the question(s) posed in the introduction, and the solution to it.
A Conclusion, summarizing the results obtained from the solution described in the body and clearly stating their relevance to the original problem as described in the introduction.
Be 2.5--5 pages in length.