---
NEW/RECENT TERHUNE - SUNNYBANK ITEMS
The following are items which have recently become available or newly available after being out of print for some time.

The Master of Sunnybank: A Biography of Albert Payson Terhune, by Irving Litvag.
Originally published in 1977, this book has been out of print for some time. It has now been reissued by iUniverse.com in a softcover edition which is a reproduction of the original including photos. This volume should be in the collection of any Terhune fan and is a very useful reference. The new edition can be readily used as a reading copy and ready reference while the collector preserves the original edition. The volume is also available from the major online booksellers. List Price $21.95. ISBN 0-595-1997-6.
Sunnybank: The Rebirth of "The Place", a Compilation of Photos Taken by Claire Leishman
Through the efforts of Nancy LaShure, many photos taken by Claire Leishman during the effort to preserve Sunnybank have been converted to video format. See what the house looked like before it was bulldozed. Compare the Sunnybank grounds of decades ago to now. This item is available in both VHS videotape and DVD formats from

Treasured Memories Video
PO Box 663
Kresgeville, PA 18333
e-mail: falcon1@ptd.net nancy.lashure@intel.com

for $25.00 including shipping and handling for the video or $33.00 including shipping and handling for the DVD. Check at the e-mail above for shipping outside the U.S. or availability of format for outside North America.

Gray Dawn, by Albert Payson Terhune
A new edition of this, one of the best of the Terhune collections of dog stories, has been issued by J. N. Townsend Publishing Co. of Exeter, New Hampshire. Long out of print, these classic stories of the blue merle collie who had his own way of doing things are now available again. A trade paperback edition, this volume includes all of the stories in the original edition, a photo of the actual Gray Dawn with the Master, a 12 page foreword written by the person maintaining this web page and internal illustrations by noted canine/equine artist and collie breeder Sheela "Mike" Cheetham. List Price $15.00. ISBN 1-880158-35-3. This volume is also available from major online booksellers.
The same publisher has also issued Duffy: The Adventures of a Collie, by Irving Townsend, another very interesting collie story.

Contact: Wayne Lewis (sunnybank@collies.com)


Return to Lucky's Home Page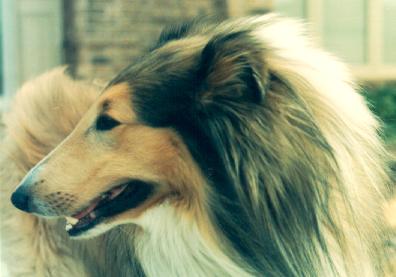 Return to Crockett's Home Page